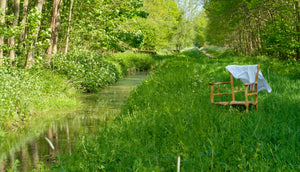 Bij Noshirt hebben we voor elke dag het perfecte ondershirt. En we bieden ook de beste basis als je iets niet-alledaags gaat doen. Zoals trouwen.
Noshirt biedt zekerheid
Als je gaat trouwen wil je natuurlijk het liefst dat de zon schijnt. Dat de foto's lukken. Dat de gasten het naar hun zin hebben. En dat je geliefde ja zegt. Daar kunnen we bij Noshirt geen invloed op uitoefenen, maar we kunnen je wel zekerheid bieden op een ander vlak: draag je een Noshirt, dan blijf je de hele dag fris en koel. Ook als je met klamme handen het ja-woord geeft of tot diep in de nacht op de dansvloer staat.
De beste basis voor de bruidegom
Noshirt heeft ondershirts, bijpassende shorts en kwaliteitssokken (al dan niet onzichtbaar). Draag je op je trouwdag een wit overhemd, dan kies je uiteraard voor een Noshirt (type naar keuze) in de kleuren invisible khaki en mocha. Zo weet je zeker dat er geen contouren te zien zijn als je jasje uitgaat én dat er geen vlekken of kleuren onder je oksels verschijnen op momenten dat het spannend wordt. Daar hebben we immers de ultradunne en extra absorberende Noshirts Dry, Performance en Nature, voor uitgevonden.

De (bijpassende), comfortabele shorts blijven de hele dag lekker zitten en tekent ook niet onder je pantalon. De Nosocks maken je basis compleet. Ga voor Nosocks Long als er een reepje kleur (en kwaliteit) te zien mag zijn boven je schoenen, kies Nosocks Invisible als je liever helemaal geen sokken showt.
Advies op maat
Met Noshirt kun je de zoektocht naar het perfecte, goedzittende ondergoed voor onder je trouwpak van je (vast veel te lange) voorbereidingslijstje strepen. Met de shirts, shorts en sokken ben je verzekerd van de beste basis voor je bruiloft: ondergoed dat lekker zit, niet doorschijnt en je de hele dag fris houdt. Van vóór de ceremonie tot over de drempel.

Hulp nodig bij je keuze? Uiteraard staan onze medewerkers klaar om je te adviseren over het type shirt, de kleur shorts of de sokkensoort die het best past bij jouw pak en jouw dag. Mail ons of bel ons (tijdens kantooruren) en vraag ons het hemd van het lijf.

We wensen je een mooie dag. Met zon, prachtige plaatjes, blije gasten en onzichtbaar comfort onder je perfecte pak.