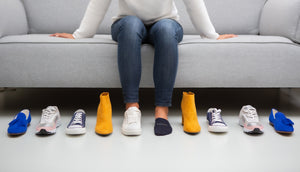 Go for the perfect pair
Why you shouldn't cut back on good socks
Anyone who thinks that all socks are created equal, hasn't found the perfect pair. Reasons enough to keep looking for true sock love and not just settle for the cheapest option. We are happy to give you five.
1. Perfect socks do exist

Not to toot our own horn, but at Nosocks we firmly believe that we've developed the perfect sock. Invisible in low shoes, made from soft and breathable fabric and designed to stay put. Footies you can easily walk in for miles without noticing them at all. (You could actually stop reading right here and start your 30-day trial!).


2. You get what you pay for

Many clichés are rooted in truth. Cheap socks that can't be seen above sneakers or other low shoes do exist. But how long does it take for your toe to poke through? And what's left of the fit after you wash them three times? The answer is short and nothing, respectively.

3. Fit is more important than you think ...

Following from point 2 above, the fit of a sock must start and stay good, even after regular washing and wearing. Finding the perfect fit may sound a bit exaggerated for a sock, but tight cuffs, rolling heels and unfinished seams can cause a lot of irritation. Literally: sagging socks and rough seams often cause blisters.

4.… as is the material

Socks come in all shapes and sizes: from basic black to bright and cheerful. Given this huge selection, you may forget about the material the socks are made of, even though this is quite important. The main purpose of socks is to keep your feet (and shoes) fresh. Socks can't do this if they have a lot of synthetic material. In fact, synthetic material makes your feet sweat, which allows bacteria to multiply. So always choose socks made from as many natural materials as possible, such as cotton and wool. And then preferably choose the highest possible quality.

5. Socks are the heroes of your wardrobe

Okay, that might be a bit of an exaggeration. But socks keep your shoes fresh and comfortable. They protect your feet from blisters and keep them warm. They also are the finishing touch to your outfit, sometimes just by being invisible. Socks deserve to be more than just an afterthought at the checkout. Stand up for your socks and they'll suit you perfectly.