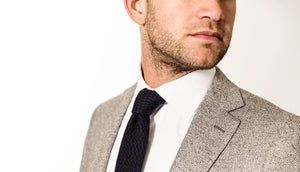 Met extra lange achterkant.
De gemiddelde lengte van volwassen Nederlanders is 1.81 meter. Daarmee zijn we het langste volk ter wereld. Ter vergelijking: onze Amerikaanse medemens is zo'n 5 centimeter korter.
Daar moet je iets mee, als ondershirtontwerper. Want de reden om een ondershirt te dragen is juist dat het comfortabel zit. En blijft zitten. Dus niet te krap of te kort.

Daarom hebben we mannen gemeten. Veel mannen. Mannen die voldoen aan dat lange gemiddelde. Maar ook mannen die dat gemiddelde mede bepalen aan de extreem lange en extreem korte kant van het spectrum. Stevige mannen, slanke mannen. En gespierde mannen.
En uiteindelijk hebben we een shirt ontworpen dat comfortabel strak zit, met een extra lange achterkant. Een shirt dat wél in je broek blijft zitten. Ook als je twee meter lang bent. Maar zonder een teveel aan stof aan de voorkant. Zodat het daar niet in de weg zit.
En omdat 'de gemiddelde man' niet bestaat, hebben we een maattabel uitgetekend. Zo kun je zien welk noshirt het beste aansluit bij jouw, al dan niet gemiddelde, lichaamsbouw. Zitten we ernaast? Don't shoot the measurer. Want je mag hem, ook nadat je het noshirt hebt gewassen, binnen 30 dagen ruilen voor een maatje groter. Of kleiner.