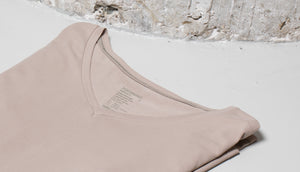 De P.A. onder je overhemd
Als je je niet druk hoeft te maken om bijzaken, kun je beter focussen op hoofdzaken. Met NOSHIRT performance heb je weer een zorg minder: het ondershirt reageert op jouw lichaamstemperatuur. Scheelt toch weer dagelijks een half uur voor de kast of spiegel.
Parkeersensoren. Automatische incasso's. Wijnklimaatkasten. Robotstofzuigers. Google Maps. Webshops. Allemaal hulpmiddelen die het leven er de afgelopen decennia (ongeveer ) 385.000 keer gemakkelijker op hebben gemaakt. Niet omdat we niet zelf kunnen bedenken of we dat paaltje gaan raken, of omdat we te lui zijn om een plek in huis te zoeken waar we die perfecte wijn op die perfecte temperatuur kunnen krijgen voor de gasten arriveren. Of nou ja: eigenlijk wel. Maar ook omdat uitvindingen fungeren als een soort personal assistent. Ze zorgen ervoor dat bijzaken bijzaken blijven. Zodat je tijd in je agenda en ruimte in je hoofd overhoudt voor hoofdzaken. Dingen waar je je écht op wilt focussen. Dingen die je goed wilt doen.
En dat zijn er vaak nogal wat. Presentaties moeten perfect. De jaarcijfers omhoog. Dat hardlooprondje steeds iet sneller. De klant dik tevreden. Vrienden op de hoogte, de kinderen blij en de partner gelukkig. En dan wil je er het liefst ook nog een beetje fris en representatief uitzien terwijl je in hoog tempo van kantoor, via golfbaan en restaurant, naar huis racet. Maar liefst wel zonder dagelijks kostbare tijd te verspillen voor de garderobe of voor de spiegel.
Ook dat is vanaf nu opgelost, met de uitvinding van de NOSHIRT performance. Een ondershirt dat ervoor zorgt dat je kunt presteren zónder je druk te maken over je outfit. Omdat het shirt zich aanpast aan je lichaamstemperatuur. Sta je met klamme handen een presentatie te geven? Dan houdt NOSHIRT performance je koel en absorbeert vocht. Loop je vervolgens in je overhemd naar je auto buiten, dan houdt NOSHIRT performance je warm. Een ondershirt dat zich inspant wanneer jij dat nodig hebt. Maar onzichtbaar. Een personal assistent onder je overhemd dus.
NOSHIRT performance is gemaakt van TENCEL en past zich dankzij de gepatenteerde Cell Solution Technologie aan je lichaamstemperatuur aan. TENCEL is een natuurlijk materiaal, gemaakt van duurzame houtvezels, en staat bekend om het absorberend vermogen, is zachter dan zijde en koeler dan linnen. Grenzeloos comfort dus. Dit botanische materiaal komt uit speciale, duurzaam beheerde bossen: voor elke gebruikte boom wordt een nieuwe boom terug geplant. Precies zoals wij dat graag zien.