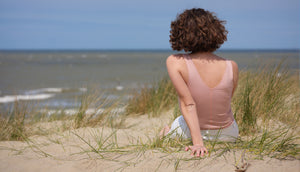 Noshirt says "yes" to women
Time for a female line
Ever since Noshirt was launched on the market specifically for men, the founder Jan Willem Onderwater has continuously been asked: when are you going to launch a collection for women? The answer is: right now! "We now have the time, space, experience and the right team to make a great collection for women."
Jan Willem Onderwater started Noshirt more than ten years ago, with a single mission: to make the absolute best invisible underwear for men there is. "People started asking us right away when we were going to launch Noshirts for women," he says. "But we weren't ready yet. First we had to make sure we got the men's collection right." And that ambition has now been achieved. With six styles of undershirts and a range of shorts and socks, Onderwater can now confidently say that he has already reached some significant milestones with his brand. "It took a while for us get the right knowledge, experience, and people to take the next step. And due to the corona pandemic, we suddenly had the time to make it all happen."
SAME QUALITY, NEW DESIGN
He was therefore very proud to present the new Noshirt Women collection this spring. A completely new collection of invisible, luxury undershirts for women. "It is absolutely not a copycat of Noshirt for men," he emphasizes. "We used the quality and comfort of Noshirt for Men as the foundation, and then translated it into completely new designs that give women what they want and need," he explains.
WHAT WOMEN WANT
Naturally, Onderwater did a lot of research and development before taking this bold step. "Women are a lot more advanced and specific in their choice of underwear than men," he says. "They also have a lot more to choose from. That is why we started by simply asking women what they were looking for in an undershirt. We carried out surveys and organized various meetings with a test group. We also asked all the women who work for Noshirt to give us their input. The result is a luxury undershirt made from high-quality cotton that meets their needs: comfortable, thin, and invisible."
DESIGN: MAUREEN DE CLERCQ
To get the design right, Noshirt called in the famous Belgian fashion designer Maureen De Clercq. She designed three styles of tops and shirts: the tank top, the spaghetti top, and two short sleeve shirts. Each with a unique, perfectly straight one-seam design and a special color: Invisible Rose. "We are all really proud of this collection," says Onderwater. "Unlike the sandy colors and 'granny colors' that you often see in this segment of the market, Invisible Rose has an 'appealing' glow while still staying invisible under light clothing."
A SOLID FOUNDATION FOR FUTURE COLLECTIONS
The collection currently consists of shirts and tops in three styles and three colors. "The preference for cotton was overwhelming amongst the test group, so we decided to use the ultra-thin cotton of the Noshirt Lite range for all the undershirts. But that is only the beginning: later on, we will probably add undershirts made from sustainable TENCEL as well," says Onderwater.
PROMISE: COMFORT
He is glad that women can finally experience the luxury comfort of Noshirt and is looking forward to hearing their response. "Our promise is a very comfortable undershirt with a unique, exclusive design that hugs the female form," he says. "All our tops and shirts fit perfectly, stay in shape for a long time, and are made in a responsible way."