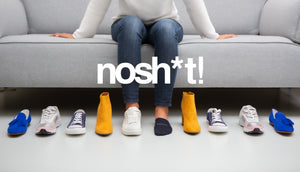 Nosocks winner
in the "Bas Smit sock test"
We do not just shout that, Bas Smit also designated Nosocks as one of his favorites, after he had subjected many foot socks to a sock test.

Smit tested almost all the foot socks he could find and proclaimed 5 pairs of socks as winners on social media. Nosocks was one of them. Obviously, we would almost say. After all, we have been calling it for years.
Invisible socks that don't slip
What makes Nosocks so good? They are invisible foot socks that really don't slip or roll up. They do not pinch and they are guaranteed to stay put all day. The breathable foot socks of thin and airy Egyptian cotton are ideal socks in different types of low shoes. Thanks to the antibacterial finish, they keep your feet fresh. And just as important: they really cannot be seen above a neat, low shoe or sneakers, thanks to the unique fit.
Perfect finish and fit
'Good socks', Bas Smit wrote about Nosocks in his socks test. He particularly liked the quality. We understand, because our sneaker socks are handmade for your feet. They are made in an English workshop and perfectly finished in detail, by hand. They are made of the best material and keep their shape indefinitely.
Good sock test
We guarantee this quality after wearing it more than twice. And that is the small comment that we would like to add to Bas Smit's comment: a good sock test has more feet. Or in a somewhat less silly way: to see the difference between 'good' and 'great' you have to wear socks regularly for a longer period of time, we believe.
30 day trial wear
That is why everyone can also test our sneaker socks. And then for 30 days, as intensive as you want (with washing and drying in between). Are you still not convinced? Then you just get your money back. But we bet you'll never want to wear other, invisible, sagging foot socks again.