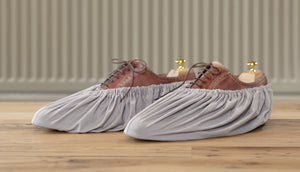 Hoef je het niet direct aan de prullenbak te schenken
Als je shirt écht niet meer kan, hoef je het niet direct aan de prullenbak te schenken. Je kat kan er ook prima op slapen. En als laptophoes begint je oude shirt aan een tweede leven.
[Tip 1] Shirt wordt laptophoes
Stap 1: Men neme een oud ondershirt en een laptop.
Stap 2: Men zoeke een (vrouw)persoon die handig is met de naaimachine en laten haar deze instructie zien.
Stap 3: Men ontvange een bijzondere laptophoes. Hope men.
[Tip 2] Shirt wordt kinderknuffel/kattenkussen
Opnieuw zoek je iemand die handig is met een naaimachine én iemand (dier of kind) die blij wordt van jouw vertrouwde geur. Jouw veelvuldig gedragen shirt kan dan misschien geen goedkeuring meer krijgen van je geliefde: als knuffel of kussenhoes kan het zomaar een doorslaand succes zijn. Patroontjes? Internet…
[Tip 3] Shirt wordt poetsdoek
Onze noshirts zijn gemaakt van Supima katoen. Extra zachte kwaliteitskatoen dankzij een extra lange vezel. Ideaal om je schoenen mee (op) te poetsen, zeker wanneer je streeft naar die prachtige 'spit-shine'. Reden voor ons om in elk geval van een aantal net-niet-perfecte-noshirts de perfecte poetsdoek te maken. Niet te groot, dubbelzijdig en met 3 handige 'precisie-poets-hoekjes'. Misschien wel de beste poetsdoek ooit.

Als je niet al te kritisch bent kun je natuurlijk ook je oude noshirts gebruiken als poetsdoek, maar goed kan altijd beter. Zeker als er dingen zijn waar je niet 'zo maar een doekje' voor wilt gebruiken.
[Tip 4] Shirt wordt waszak
Handig voor op reis, een waszak voor je gedragen noshirts. Vonden wij. Daarom kun je bij noshirt een waszak bestellen, gemaakt van net-niet-helemaal-perfecte ondershirts die de kwaliteitscontrole in onze ateliers niet doorstaan of van shirts die onverhoopt aan ons zijn geretourneerd.

Zo bestaat jouw bestelling altijd uit verse, ongedragen, frisse ondershirts, en gooien wij niets onnodig weg. Dat noemen wij bij noshirt: nowaste!
[Tip 5] Shirt wordt schoenzak
Geïnspireerd door tip 4: de schoenenzak. Ideaal om je schoenen te beschermen. En vuilen zolen weg te houden van je schone kleding. Voor op reis, in de kast of in je sporttas. What's next?