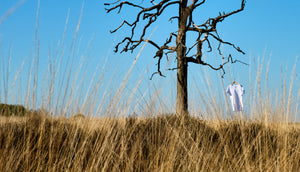 Slow Fashion
Time for timeless clothing
Each year, kilos of clothing are sold for next to nothing as one trend quickly replaces the next. The world of fast fashion is absurdly wasteful. At Noshirt, we prefer slow fashion over new collections and high discounts.
Janice Deul, fashion journalist and activist, made the point in an article in NRC earlier this year that something needed to be done about the 'outdated and wasteful system' of disposable fashion. She thought it was not only time for manufacturers and suppliers to become more creative and sustainable, but also for consumers to take responsibility instead of automatically expecting to get a huge discount at the end of every season. A viewpoint that Noshirt totally supports.
CLOTHES THAT LAST
All our shirts, shorts, and socks have a timeless quality. They are made to last longer, and to keep you looking fresh and sharp for longer. They are made in a transparent and honest way from premium quality Supima and/or sustainable TENCEL, and with an eye for detail. That is why they are so comfortable, and look so good, for so long.
LESS WASTE
Every now and again, of course, we do get a shirt back, or something goes wrong during production. But when that happens, we give the shirts a second life as a Nowaste item. For example, as shoe covers (so your shoes keep that brand-new look), a sports hat, or a scarf. In other words, more creative recycling and less waste, which is exactly what Janice Deul was talking about.
SLOW STATEMENT
Noshirt is slower than slow: a timeless piece of fashion that feels great every time you put it on. An excellent choice if you want a more sustainable clothing option. A Noshirt that you will still be wearing this time next year. A Noshirt that you won't have to buy again and again like all that discount clothing that loses its shape and falls apart after only a few weeks. That is what we call a fashion statement.