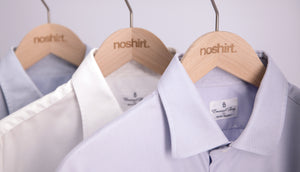 Hoe je je overhemd met stijl draagt (en waarom Noshirt dus onmisbaar is)
Tegenwoordig dragen we een overhemd niet meer onder een vest of jasje. Roel Wolbrink (The New Tailor en schrijver Het Blauwe Boekje) legt uit waarom een goed ondershirt onmisbaar is om een kwaliteitsoverhemd stijlvol te dragen.


Even een stukje geschiedenis. Vroeger had een huis geen cv. Binnenshuis droeg je als man minimaal een wambuis, een soort vest, over je overhemd. En daar overheen nog een jas, of zelfs een overjas als je naar buiten ging. Een overhemd was dus vroeger onderkleding, vaak gemaakt van linnen of sneldrogend katoen. Een soort ondershirt avant la lettre dus.
Perfecte pasvorm
Dat we tegenwoordig in de zakenwereld wèl vaak alleen in een overhemd lopen, en het jasje bij binnenkomst al snel op een haakje (of liever op een hanger) hangen, pleit voor mooi gemaakte overhemden. Met parelmoeren knopen, verfijnde naden en een kraag die mooi blijft staan. De pasvorm van een overhemd is nu nog belangrijker geworden. Je overhemd moet klasse uitstralen. Klasse die maakt dat je als heer gerust in je hemd kan staan.
Het klimaat in sommige kantoorgebouwen is echter niet geschikt om alleen in een overhemd te lopen. Door de airco is het er altijd fris. Aan de andere kant: we zweten ook allemaal. Een ondershirt is daarom praktisch onmisbaar. Het houdt jou warm en je overhemd fris. Maar het moet wel een privé genot zijn: onzichtbaar dus.
Weg lelijk wit randje
Een goed ondershirt komt daarom niet boven je sluitknoop uit en schijnt niet door je witte hemd heen. Niks lelijker dan dat te dikke randje van de kraag dat zichtbaar is door je hemd heen, of dat randje dat door de mouwen heen je biceps op een verkeerde manier accentueert.
Noshirt is verkrijgbaar met een deep V-hals, die je niet ziet als je je overhemd wat verder open draagt. En in de kleuren invisible khaki en invisible mocha, die echt onzichtbaar is, ook onder een licht overhemd. Misschien lijkt dat 's ochtends voor de spiegel niet heel sexy, maar onder een overhemd is het stijlvol. Het maakt Noshirt een must voor elke gentleman.