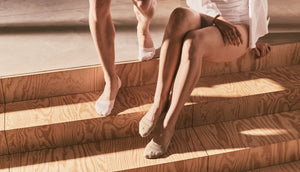 Ken je dat? Het is mooi weer, je trekt je sneakers aan en gaat lekker op pad. Verwachting: je geniet van de vrolijke en zonnige sfeer terwijl je rondwandelt door je favoriete stad. Realiteit: je bent al na tien stappen alleen maar bezig met je afgezakte voetsokken. Zo frustrerend… In dit blog lees je hoe je korte metten maakt met sneakersokken die afzakken.
Geen afzakkende voetsokken
Onze Nosocks zijn gemaakt om afzakken te voorkomen. Hoe ze dat doen? Om te beginnen hebben ze de perfecte pasvorm: ze zijn onzichtbaar in je sneakers of instappers, terwijl ze je voet wel genoeg bedekken om te blijven zitten. Als extra ondersteuning zit er in de hiel een anti-slipstrip. Deze zorgt ervoor dat de stof nog beter aan je voeten blijft zitten. Tot slot is daar de elastische rand. Die is comfortabel maar stevig, zodat je sneakersokken op hun plek blijven zonder te knellen.
Beste onzichtbare sneakersokken
Combineer dit – als we het zelf zeggen – ingenieuze design met de keuze voor Egyptisch katoen, en je hebt misschien wel de beste onzichtbare sneakersokken die je ooit hebt gedragen. Of dat zo is, laten we je heel graag zelf beoordelen. Daarom mag je Nosocks 30 dagen lang zo vaak dragen als je wilt. Ben je daarna niet tevreden, dan krijg je je geld gewoon terug. Dat is onze garantie.
30 dagen op proef
Zo'n garantie durven we natuurlijk te geven omdat wij geloven dat onze voetsokken niet afzakken. Niet als je wandelt. En ook niet als je sport. Onze speciale Nosocks Sport zijn bovendien niet alleen gemaakt om afzakken te voorkomen, maar ook om jou comfortabel te houden tijdens actieve momenten. Ze hebben een extra stevig voetbed én een antibacteriële finish, zodat je voeten (en schoenen) fris blijven als jij je in het zweet werkt.
Unisex voetsokken
Nosocks zijn beschikbaar voor dames en heren – en alles daartussenin. Ze zijn namelijk unisex én verkrijgbaar in de maten 36 tot en met 49. Zo is er voor (bijna) elke voet een passende sneakersok. Zelf proberen? Je shopt Nosocks hier en Nosock Sport hier.
Wil je meer weten over het (duurzame) materiaal waar onze Nosocks van gemaakt zijn? Dat lees je in dit blog.