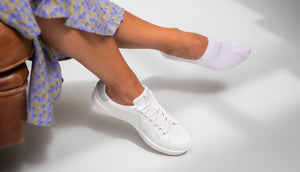 You won't sweat the small stuff
with Nosocks
The perfect summer look: bare legs and low shoes. The biggest summer complaint: sweaty feet. If you want the look without the smell, this is the solution for you.
Picture this: it's a warm day and you're wearing stylish sneakers or trendy loafers without socks. The result: sweaty, smelly feet. The culprit: bacteria, which love warm, damp places where they can multiply and cause odours. If you want to beat the heat in style in a pair of trendy shoes with no visible socks or unpleasant smells, there are a few things you can do.
Breathable material
For starters, make sure your feet can breathe. Leather shoes and shoes with a leather footbed are better suited for this than synthetic ones. Putting a leather or cork sole in your sneakers can also help.
Invisible footies
If you wear low, closed shoes such as sneakers, loafers or ankle boots, it's best to wear socks. A study by the European shoe store Size? found up to three times less bacterial growth in shoes when socks were worn.
If you don't want visible socks, trade in the ankle socks and quarter socks for footies: socks that are truly invisible in low shoes.
Antibacterial footies
Nosocks were designed to remain invisible low shoes and to keep your feet fresh at the same time. The Egyptian cotton absorbs moisture, just like the Merino wool in the winter version of Nosocks. The breathable instep ensures that your feet get air and stay fresh and the antibacterial finish minimizes bad smells.

Clean socks
Good shoes and socks made from the right material help to nip bacteria in the bud. If you want to give them even less chance of having a party in your shoes, change your socks once a day wash and dry your socks properly and give your shoes occasionally a day or night to air out every once in a while. If they are slightly damp, you can put unused coffee pads or tea bags in them. Works like charm.
Try Nosocks
Have your favourite sneakers been ruined by a bad smell? Don't worry, there's still hope. Put them in a plastic bag and pop them in the freezer overnight. You're guaranteed to wake up to fresh shoes. Since bacteria don't like extreme cold, there's a chance that they'll be gone for good – along with the smell.
Want to experience how great good socks can feel? Try Nosocks during our 30-day free trial. Here's to a hot summer and fresh feet.