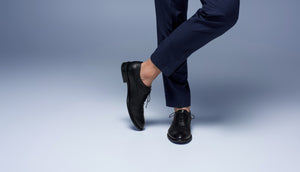 Flank your mankles
But make sure they can't see your socks!
But make sure they can't see your socks! What is the best way to stay cool in the summer? FLANKING of course! In other words, flashing your mankle. Make a perfect pin roll. And give your cuffed look that finishing touch with Nosocks: extra-short socks that are totally invisible.
Mankle fashion
One of the most surprising fashion trends in recent years has been phenomenon of mankles: suddenly trousers have gone up and socks have gone down so everyone can see your man ankles. And if you're really trendy, you roll up your trousers to reveal a bit of leg as well (flanking = flashing + ankle). It doesn't matter how hot or cold it is, it is simply de rigueur nowadays. But of course you have to do it in the right way. A couple of centimetres of ankle is quite enough!
Pin rolls and cut-offs
There are several different styles: skinny jeans and tight-fitting chinos look best with a pin roll , while suit trousers should be cropped. Keep it cleaner with a turn-up, or go totally wild with a jagged cut-off. As long as there are no socks sticking out above the top of your loafers or low-profile sneakers.
Fresh feet
There's only one problem: if you don't wear socks, then your feet start to smell. Not to mention your shoes... Trainer socks are an option, but they ruin the whole look because you can still see them. And anyone who has worn mini-sneaker stocks knows they just slide down after a while. Of course you can always use odour absorbing insoles or just spray on a lot of deodorant. But only in an emergency. It's not something you want to do every day.
Nosocks
That is why Noshirt has introduced 'Nosocks'. Real socks - that you can't see - but don't slip off. Made from Egyptian cotton, for extra comfort. So you can flash your mankle and still have fresh feet. With an ingenious heel grip that keeps the socks in place. So time to get your Nosocks on. And start flashing those mankles in style and comfort.