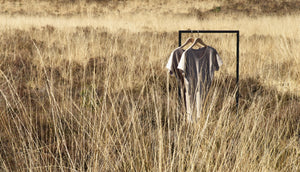 Undershirts are not meant to be seen
ESPECIALLY UNDER A WHITE SHIRT
Looking for an undershirt that doesn't stand out under your white top shirt? Don't look any further! Noshirt is available in the unique colour of invisible khaki, which is truly invisible under any colour.
We have a sharp eye for detail at Noshirt. We make your undershirts with the perfect stitching, seams in the coolest colours, and the ideal fit. But we work even harder to make sure you don't see contours under your shirt, or a white collar sticking out.
Undershirts are not meant to be seen. That is why we have not only designed a V-neck that disappears under your shirt, but also developed the perfect invisible undershirt colour: invisible khaki.
Noshirt invisible khaki is perfect under a white, light or casual shirt. It doesn't show through and – with the right V-neck – it does exactly what it promises: it's invisible.
We did a lot of research and testing to get it right. With all types of shirts. Which has earned us a considerable amount of praise from retailers, satisfied customers, and the reviewers of the Volkskrant Magazine (which gave Noshirt invisible khaki a score of 9.0).
Do you want to see it before you believe it? Then try out this colour for yourself, under your own white shirt. You can wear it and wash it for a 30-day trial period and see just how invisible Noshirt invisible khaki really is with your own eyes.