WHAT YOU DON'T SEE ON THE LABEL [5]
PART 5: CUT FROM THE FINEST CLOTHS
Our base layer tops don't have labels. That's because labels get in the way of comfort. But just because we don't want to provide a label, doesn't mean we don't want to provide info on where our products are made. Or from what material. And by whom. And anyway, there isn't enough space on a label for all that. Which is why we prefer to lay it all out in detail for you here. In five parts. For those who want to get to know the nitty-gritty, the basics, the fundamentals. Or the base layer, of course.
PART 5: THE MOST BEAUTIFUL MATERIALS
In this last instalment of our five-part 'What you don't see on the label' series, we delve into what you would usually find on a label: What exactly our base layer tops, shorts and socks are made of. And why those fabrics make them so comfortable.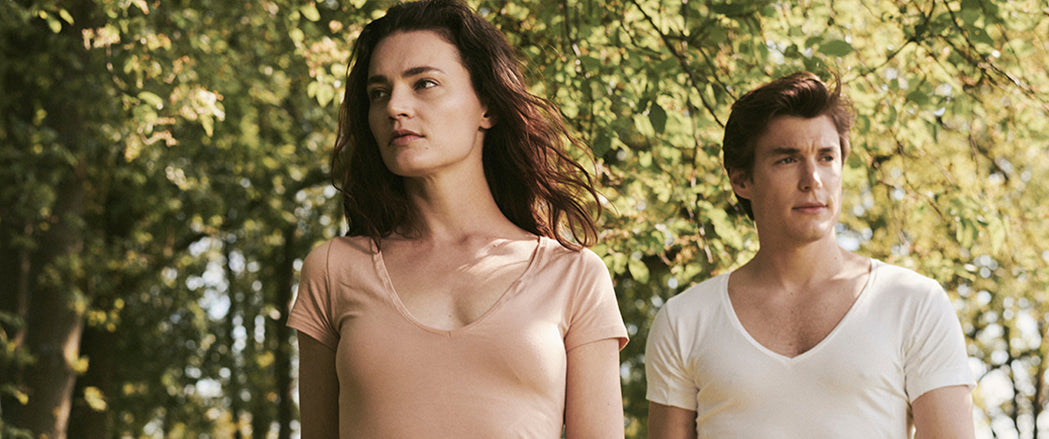 SUPIMA FROM THE US
When it comes to our range of base layer tops for men and women, you'll find that a lot of them are made from cotton. That was a conscious choice right from the get-go when we launched Noshirt, and we still stand behind that choice. But we don't just use any old cotton; we use Supima cotton.
Supima is short for 'superior pima' and is the brand name for luxury American cotton. Pima cotton is a type of cotton with an extra-long, extra-strong and extra-fine fibre. Naturally, you can't see this with the naked eye, but you can certainly feel it. And thanks to these fibres, a finer yarn can be spun than from 'ordinary' cotton, which ultimately results in incredibly fine, soft and silky cotton products. Products that stay beautiful for a long time and last a long time. Products like our base layer tops and shorts, for example.
TIME FOR TENCEL™
That being said, we did still want to add products made of other, even more sustainable, fabrics to our range of base layer tops and shorts. After all, in addition to producing slow fashion we also want to produce top-notch underwear. After extensive research we chose TENCEL™, a sustainable and silky-soft material made entirely from the natural raw cellulose of sustainably-sourced eucalyptus wood. You can read more about it in this blog. And if you're curious about the new women's line, Noshirt Women Nature, made from that same soft TENCEL™, you can find more here.